Introducing
Bumpboxx Flare8 Bluetooth Boombox
This unit has large woofers and 200 watts of TRUE power. This is perfect for those seeking deeper bass to go along with crystal clear music. The Flare8 doubles as a guitar amp and includes a wireless microphone. This is the ultimate tailgating must have. Don't miss out, small quantity in stock and ready for pick up or delivery.
Even with the music loud, the Flare8 can last up to 12 hours with the rechargeable lithium battery. There are multiple options to choose how to play your music; use the Bluetooth which can connect from long distances, use the 3.5 mm aux input, or play music from the USB DRIVE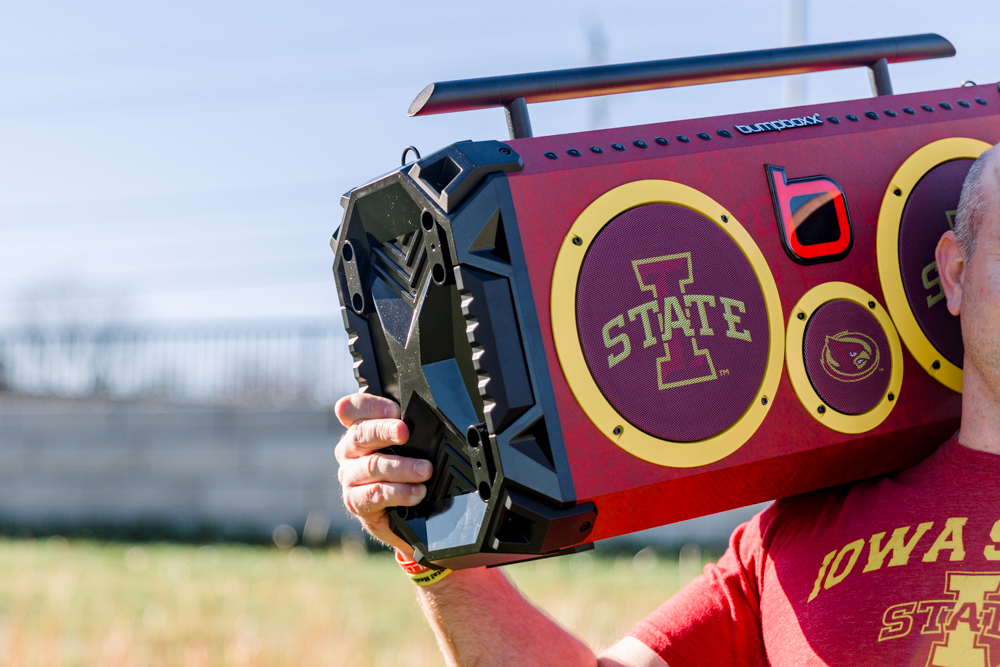 118 dB
3" Tweeter
Two 8" Woofers 4ohm
200 Watts Max Power
Bluetooth Connectivity
Digital Stereo Amp
TWS True Wireless Stereo Pairing (SYNC 2 Flare8s wirelessly – latest models only)
Rechargeable Lithium Battery w/ 12hr Play Time
New LED VU Display
USB Charging port
SD and USB MP3 player
5 EQ Settings
1/4" Microphone Input & Wireless Mic Included
1/4" Guitar Input
Low battery indicator
Audio in/out for Linking Units
What's in the box?
Charging Block
Carry Strap
Remote Control
3.5mm Line In/Out
Wireless Microphone
Warranty Information: The Flare8 comes with a 1-year manufacturers warranty.
Warranty
All Bumpboxx units come with a standard 1-year manufacturer Warranty. We will repair or replace, as needed, any unit that is considered a manufacturer defect.
Please feel free to email customerservice@bumpboxx.com or chat with us for a quick reply.
What does the 1-year warranty cover?
Bumpboxx warrants all products to be free from manufacturing defects for a period of 1-year from the date of purchase. All original packaging must be kept for the duration of the warranty period or Warranty will be voided.
This limited Warranty covers any defects in material and workmanship under normal use during the warranty period.
During the one-year period, Bumpboxx will repair or replace with a comparable product, at no-charge, products or parts of a product that proves defective because of improper material or workmanship, under normal wear and tear.
Is there an extended warranty?
An Extended Warranty is offered at the time of purchase. The Extended Warranty covers you for two years and is only $34.95.
What does the warranty not cover?
This Warranty does not cover any problem that is caused by:
Conditions, malfunctions or damage not resulting from defects in material or workmanship.
Damage of a product resulting from negligence, Ex: Not using the strap and handle together, dropping unit, using incorrect chargers, exposing unit to hazardous weather conditions etc.
Damage of a product resulting from unauthorized modification of the product.
Damage caused by natural disaster.
Theft or loss of the product.
Secondhand purchase voids Warranty services for both parties.
If out of warranty?
If you are out of warranty and your unit needs to be repaired, please contact us through our chat or email us at 
customerservice@bumpboxx.com
. For out of warranty repairs we do charge a flat fee of $99 which includes parts, labor, and return shipping in the continental US.
What do you have to do?
To obtain Warranty service, you must first contact Bumpboxx to determine the problem and the most appropriate solution for you.
All Warranty claims must be returned to Bumpboxx prepaid. Bumpboxx will repair and replace as needed and cover the return shipping to the registered owner.
If you are out of warranty and in need of a repair; you are required to ship the item at your own cost, and Bumpboxx will pay shipping to return the item to you.